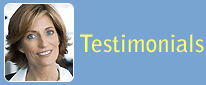 "I used the Hygenique™ Sitz Bath system after giving birth. It was so refreshing and very soothing. I was able to take it home with me, and I used it 6-8 times a day. I feel Hygenique™ Sitz Bath is a necessity for any new mother."
-Maternity Patient
"With
Hygenique™ Sitz Bath
, each patient has their own spray wand. It's individualized to the patient's needs and requires a lot less time for nurses to administer."
-Nurse Manager
"The
Hygenique™ Sitz Bath
system is really unique. The warm water was so soothing to the affected area. I could use it at home, and I healed much faster than my doctor thought I would."
-Hemorrhoid Sufferer
"Patients undergoing chemotherapy and radiation therapy for cancer have a suppressed immune system. They frequently experience long bouts with severe diarrhea, which often leads to skin breakdown and possibly major infections. In addition to relieving the pain and discomfort associated with tender tissues,
Hygenique™ Sitz Bath
can play a major role in reducing life-threatening infections. These patients need
Hygenique™ Sitz Bath
."
-Oncology Supervisor
"The
Hygenique™ Sitz Bath
system is a low cost solution to a potentially high cost problem. Personal hygiene is something we want to be independent with in our lives. We want to use the products that help us have confidence."
-Occupational Therapist
"We primarily use the
Hygenique™ Sitz Bath
system for rectal surgeries and some GYN procedures, and it has been very effective preventing infections with both."
-Nurse Manager



Hygenique™ Sitz Bath
is the only complete perineal system that provides all three essential components of peri-care: hygiene, heat therapy, and soothing pain relief for tender tissues. By combining a spray wand for bidet cleansing with a sitz bath for whirlpool heat therapy, the
Hygenique™ Sitz Bath
system provides a gentle and thorough cleansing which helps promote the healing process.

Hygenique™ Sitz Bath can be used both as a hand-held bidet, and in conjunction with our patented flow-through sitz bath. The bidet easily snaps onto any single-spouted faucet.
Insert a glycerin cleansing cartridge into the wand for a 60-90 second cleansing cycle. Insert the wand into the control handle. After sitting down, slowly rotate the on/off knob until a desired spray pressure is reached.

To receive the benefits of soaking, after cleansing the area, place the tip of the spray wand into the groove in the bottom of the sitz bath, and snap the handle into the sitz bath. Adjust the water pressure and close the door of the sitz bath. The sitz bath will fill for a therapeutic whirlpool soaking cycle. The excess water will drain into the toilet through the overflow holes. Upon completion of the soaking cycle, turn the knob on the handle to the off position and simply open the door on the sitz bath to drain the water.
The Hygenique™ Sitz Bath system includes: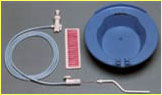 A 10-foot water delivery hose with a control handle
20 glycerin cleansing cartridges
A spray wand
Faucet adapter kit
A flow-through sitz bath